Photo: Students hold up their wildlife trading cards during a presentation.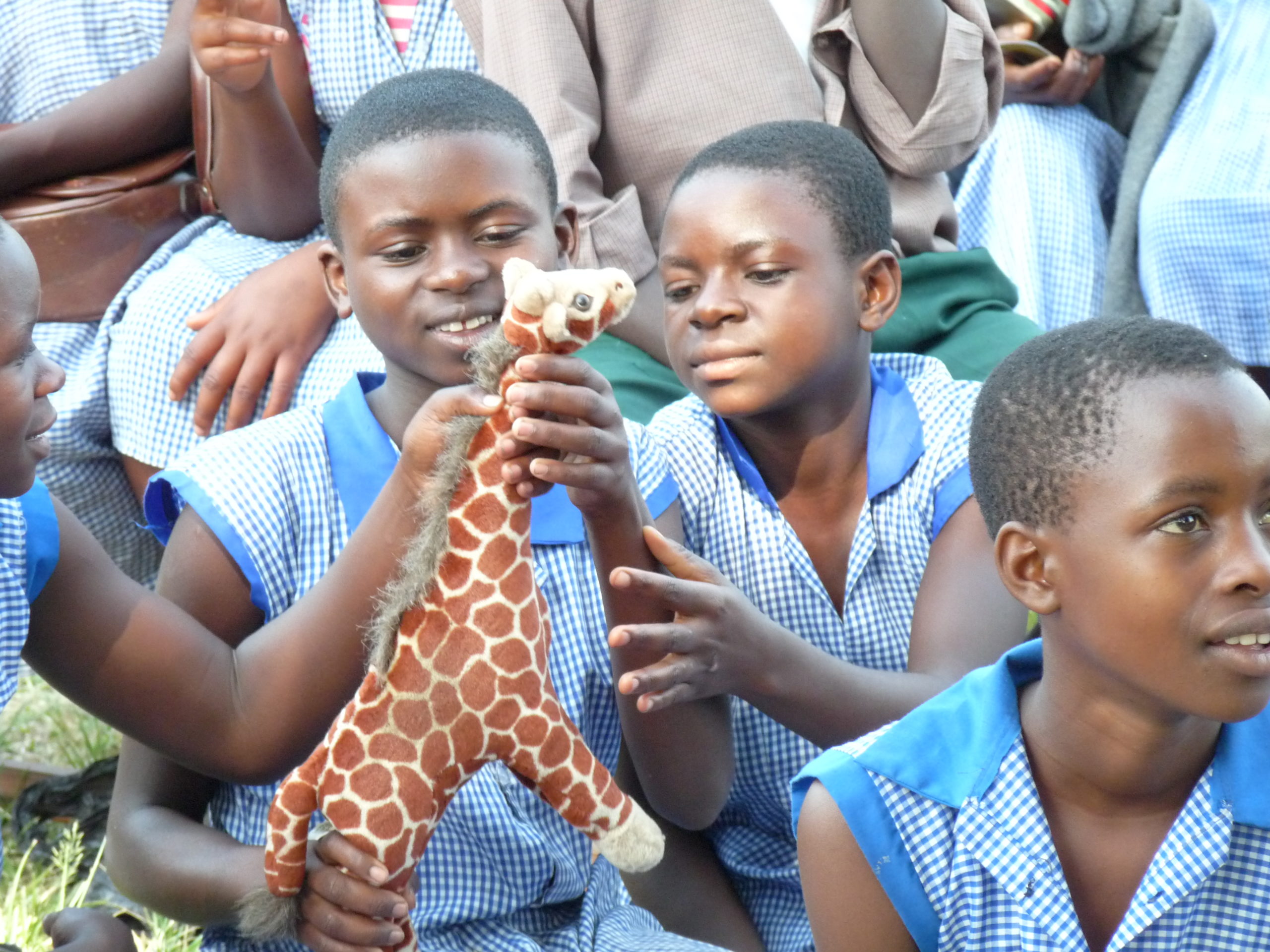 Photo: Props help students learn about and get excited about wildlife.
Photo: Students participate by wearing animal masks during a presentation.
Creating Conservation Impact in School-Aged Children
Introducing Wildlife Conservation Practices through Interactive Video Presentations, Tree Planting, and Wildlife Clubs
Every year, KWCAO visits more than 135 of the nearly 700 schools in the district, providing interactive wildlife conservation presentations including videos, demonstrations, and discussions. Since our founding, we've reached more than 500 schools and 525,000 students. Since many schools do not have electricity, KWCAO brings its own generator, laptop, movie screen, and other equipment.
During the presentations, KWCAO volunteers use educational props to help the students learn about wildlife, its importance, and the benefits of conservation. They field questions and dispel common myths that wildlife is harmful or only valuable as a source of monetary income. Some presentations are indoors and some are outdoors and the students are so excited to participate. Wildlife conservation is not included in the typical school curriculum so for most, this is their first time learning to identify the animals, and hearing about how they live and care for families of their own. For some, this is their very first positive connection to nature. Using props such as masks and animal models brings an added sense of enthusiasm from the students.
At end of the each presentation, students are invited to take the KWCAO pledge to protect wildlife and receive wildlife trading cards, each marked with information and photos of a specific animal. Students who are part of their school's wildlife club also receive tree seedlings to plant at home.
Photo: Wildlife masks help students learn about different species.
Video: In the first video, young students are afraid of the rubber snake prop used during a school wildlife conservation presentation.
Video: Students who have experienced previous KWCAO presentations are curious to learn about the role snakes play in the ecosystem.